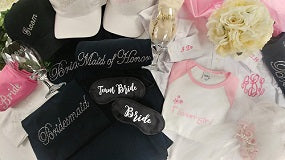 Are you attending a wedding or are you the bride? Do you have a bridal shower coming up? Add that extra special touch to your wedding or the wedding you are attending with a bridal shower/wedding gift. We have many gift items for the bride's shower, the couple's wedding gift, and the bridal party! Some of the items that can be monogrammed or embroidered with designs include towel sets, napkins, bride and groom aprons, robes, throws, quilts, sheets and pillowcases, handkerchiefs, and more! Popular bridal party gifts include tote bags with attendants' names embroidered on the bags, t-shirts, tank tops,...
---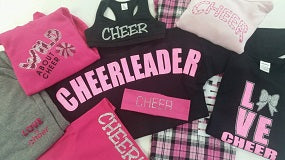 One of the things we love to do at J & K Embroidery Plus is create Cheer Spirit wear for cheerleaders teams and all of their fans! We use embroidery, rhinestones, glitter and print to decorate Spirit wear and Fanwear which includes items such as t-shirts, hoodies, flannel and sweatpants, tote bags, shorts, tank tops, hats, beanies, headbands, jackets, blankets, and more. In addition to selling Cheer Spirit wear from our shop and website, we attend Cheer leading Competitions as a vendor. We decorate various products to sell at competitions and we also take orders for apparel or accessories in the colors, sizes, etc. that you may be looking...
---
• Embroidered Baby's Baptism Heirloom
A piece of my heart…my grandson, Peyton, in the little outfit that I made for his baptism. It was made in white satin fabric with a little vest, blue bow-tie and cap with blue trim to complete the outfit. Baptisms are always a special day for families, and this was an extremely special day for our family. Peyton was the 4th generation in my family to be baptized in the church where I grew up. My mother, my aunts and uncles, my brother, sisters, myself and my children as well as my nieces and nephew were all baptized in the...
---
Photo Stitch Embroidery is an embroidery technique using single stitches to recreate your prized photo in stitches. One of our talented artists creates a digital stitch file using your original photo and then it is embroidered on white fabric creating your finished embroidered piece. Your embroidered piece is now ready for framing and will become a treasured Family Heirloom to pass down from generation to generation or would make a unique gift.     Photo (Original) Embroidered piece from photo. Copyright 2018 J & K Embroidery Plus   I fell in love with Photo Stitch embroidery when my sister and I attended...
---
We get asked quite often "How did you get into this business?" Well, I have been sewing since a young girl. In 2002, when I needed a new sewing machine, I discovered the world of computerized sewing and embroidery machines. Wow, what a difference from my Singer which was about 47 years old. While my sister, mother and I were shopping for my new sewing machine, both my sister and I fell in love with embroidery. Yes, you guessed it! We both purchased a used sewing/embroidery machine and thought about starting a business. But, very quickly we wanted to be able to do more than our...